Chiapas is the southernmost state in Mexico and education possibilities are extremely limited for the poor, indigenous population.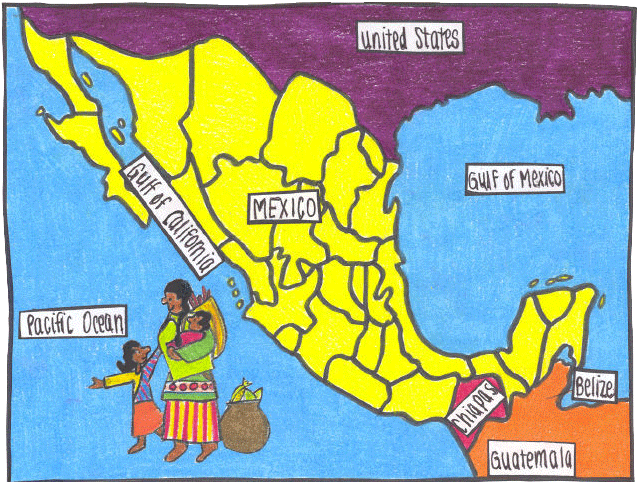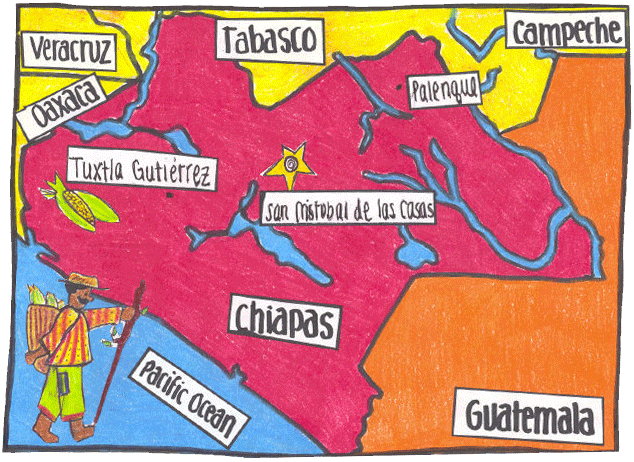 (Maps were designed and contributed by Jenna Hall, a very creative 11th grade student of Spanish in 2005)
After primary school (5th grade), school costs are too high for families to afford. If there is a choice in the family, boys are given preference. We started in 2006 to give scholarships to women and girls from the 6th grade to the university level. Here are a few examples. Martha started with us in 6th grade and is now in her 3rd year of nursing school. Juana received a degree in computer science, and Yolanda completed a degree in English.  Mari started her primary education as an adult, 9 years ago, and will enter university in fall, 2016. Other girls study to complete a level, or to work on a specific topic. We feel strongly that even a year or two more of education can make a difference. The scholarship recipients develop confidence, teach children in their communities, and become role models for other girls. For current numbers of women and girls on scholarship, please read below.
August 2017 Scholarship Recipients
Three more girls received scholarships this summer. All three are from Altamirano. Alejandra will be starting the 3rd year of preparatory (10th -12th grade.) Deyssi is in the 3rd year of secondary (6th to 9th grade) and Magali is just starting the first year of secondary. They stand in the same order in the photo below.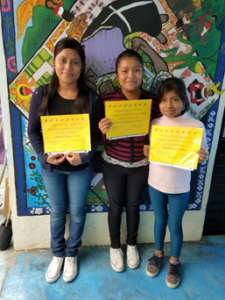 August 2016 Scholarship Recipients
Two more girls have been awarded scholarships for secondary school (6th -9th grade).  Rosa is from Las Ollas, and Victoria is from Crucero. We don't have an available photo for María, of San Andrés Larrainzar. She will be studying computer skills. Our current total of women and girls on scholarship is now 22.
Rosa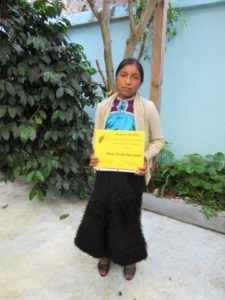 Victoria
February 2016 Scholarship Recipients
Two new scholarships were awarded mid-school year this year, to two very deserving girls from Yajalón. This brings our current number of recipients up to 19.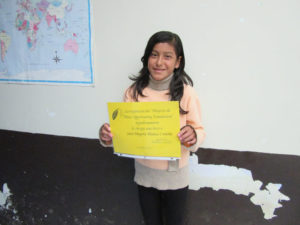 Sara
Sara is 12, and her mother is very supportive of her education. She will also be helping with the new Children´s Program, and she is enthusiastic about school. She is in the first year of secondary.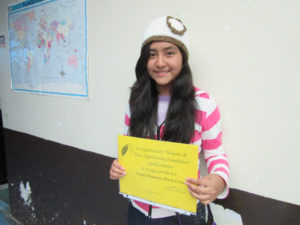 Zaida
Zaida is 14 and in the last year of secondary school. She will be helping to run the new Yajalón Children´s Program Her father is blind and her mother does domestic work. Zaida is very serious about school and plans to enter preparatory in fall, 2016.
2015 Scholarship Recipients
Two new scholarships were awarded in August, 2015. Our current total is 17 girls and women on scholarship with us. We lost 3 girls: one to marriage, and two to having completed their educational goal. Currently, three are at the university level (nursing, tourism, computer science), six are in preparatory (10th to 12th grade equivalent), six are in secondary (6th to 9th equivalent), and two are taking computer and english classes. An annual scholarship this year averages $725. The cost is down from last year due to the strong dollar exchange rate.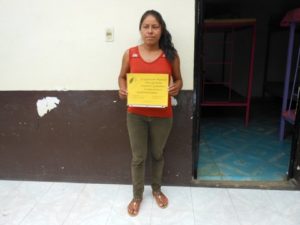 Ayaneli
Ayaneli is from a remote village near Altamirano. She is a single mother of a 7 year old boy. She is looking forward to computer classes so she can obtain a good job.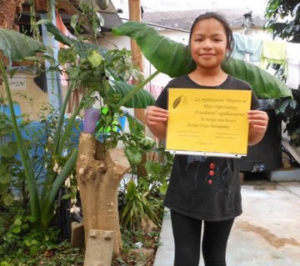 Yessica
Yessica will start secondary school in August. She is a bright, cheerful girl who underwent heart surgery last summer. She has a positive outlook and has enjoyed attending the Crucero Children's Program the past 2 years.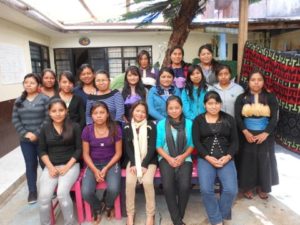 Group of 2015 Recipients

The group photo depicts the entire group of recipients during an August, 2015 workshop.